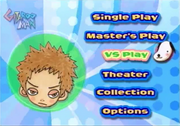 VS Play is the multiplayer mode of Gitaroo Man. Only up to two players can play, however in the PS2 version, if the Multi-tap is hooked up to the controller port, up to four players can play.
Every stage song is playable except for VOID, The Legendary Theme (Acoustic version), Overpass, and The Legendary Theme (Album version).
Playable Songs & Characters
Edit
In the PS2 version, Kirah and Zowie are available in every stage except Resurrection from the start. In the PSP version however, they are unlocked once Single Play is completed.
U-1
Kirah (Acoustic guitar)
Kirah
Ad blocker interference detected!
Wikia is a free-to-use site that makes money from advertising. We have a modified experience for viewers using ad blockers

Wikia is not accessible if you've made further modifications. Remove the custom ad blocker rule(s) and the page will load as expected.