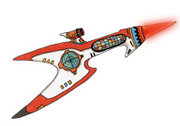 U-1's Gitaroo is the legendary Gitaroo in U-1's possession. Once all eight legendary Gitaroos are collected, it will show it's true form and possess incredible powers.
Zowie collected all the gitaroos except U-1's and is determined to acquire it.
In VS Play, it is revealed that Zowie's Gitaroo appears very similar to U-1's, just with darker colors.