The Backup Band

Yung (left), Mr. Yasuda (center), Noren (right)
Profile
Race
Human
Gender
Female (Yung)
Male (Mr. Yasuda & Noren)
Gitaroo
Cymbal (Yung)
Guitar (Mr. Yasuda)
Keyboard (Noren)
Appearances
Appearances
Gitaroo Man Wan
Gitaroo Man
Gitaroo Man Lives!
Voice Actors
Japanese
Unknown
English
Unknown
The Backup Band, also known as Animarru (あにまーる。) are three musicians who are U-1's back up band in Gitaroo Man. They follow him everywhere he goes to play the accompanying instruments in the songs.
Their percussionist is named Yung (ユン) who wears a monkey-suit. Yung is the mischievous and popular one and the most childish of the three. She is said to have been the student of the world's best percussionist. The panda-suited member is Mr. Yasuda (安田さん) who plays in the string department and is the backup band's leader. He has strong pride and professionalism, claiming that he is the most important character. He hosts the Q & A corner on the official Gitaroo Man website, though he complains about how no one could remember his role in the game. The pink rabbit-suited member is Noren (のれん) who acts as the calm and intelligent keyboardist. He is the trendiest of the trio, believing in whatever is popular with the young people these days.
Collection Item
Edit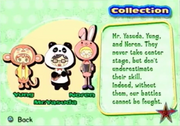 Attainable by completing Master's Play Stage 6
"Mr. Yasuda. Yung, and Noren. They never take center stage, but don't underestimate their skill. Indeed, without them, our battles cannot be fought."