Panpeus (パンパス), is the first enemy U-1 faces.
Panpeus likes to cause mischief and aquires the ability to alter reality to his will. His Axe Gitaroo is considered to be strong and flexible but it takes great skill to wield it.
Collection Item
Edit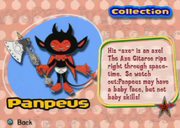 Attainable by earning an "S" or "A" rank on Single Play Stage 1
"His "axe" is an axe! The Axe Gitaroo rips right through space-time. So watch out: Panpeus may have a baby face, but not baby skills!"