Mojo King Bee (モジョキングBee) is a member of the Gravillian Empire
Zowie orders him to follow U-1 on earth after Flying O's defeat. He confronts him in a forest near a lake. He has the ability to control the darkness to his will. No one has ever seen him without his sunglasses.
Collection Item
Edit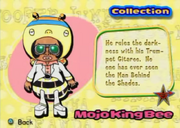 Attainable by earning an "S" or "A" rank on Single Play Stage 3
"He rules the darkness with his Trumpet Gitaroo. No one has ever seen the Man Behind then Shades."
Ad blocker interference detected!
Wikia is a free-to-use site that makes money from advertising. We have a modified experience for viewers using ad blockers

Wikia is not accessible if you've made further modifications. Remove the custom ad blocker rule(s) and the page will load as expected.