Ming Ming (眠眠) is Zowie's cat. She is just as rude as her master, but she is content to nap most of the time. She doesn't really like Puma. Gregorio claims she is hard to handle and that he is not particularly fond of it.
Ming Ming appears as a boss in the duet mode of the PSP port of Gitaroo Man, Gitaroo Man Lives!.
Collection Item
Edit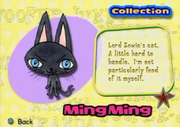 Attainable by completing Single Play Stage 9
"Lord Zowie's cat. A little hard to handle. I'm not particulary fond of it myself."